February 28, 2023
Source: Massachusetts Center for Advanced Manufacturing at MassTech
WESTBOROUGH — The Center for Advanced Manufacturing at MassTech Collaborative (CAM) and more than 85 organizations from across the Northeast have submitted a proposal to the federal government to create the Northeast Microelectronics Coalition, a regional hub that will advance the microelectronics needs of the U.S. Department of Defense (DoD) while spurring new jobs, workforce training opportunities, and investment in the region's advanced manufacturing and technology sectors. The Coalition submitted the proposal to the DoD's Microelectronics Commons program, which is funded by the 2022 CHIPS and Science Act that aims to onshore the manufacturing of microelectronics and semiconductor technologies and support workforce training for these industries. 
"Massachusetts is a leader on innovation, technology, and advanced manufacturing, and we're proud to continue that legacy by submitting this proposal," said Governor Maura Healey. "This is a once in a generation opportunity to invest in cutting-edge sectors that will be key to our country's national security and ensure Massachusetts companies have the resources and workforce they need to succeed. We're thrilled to put forth this competitive proposal to bolster the industries keeping Massachusetts at the forefront of innovation."  
"Massachusetts has amazing potential when we leverage our research institutions, universities, innovative companies, and unmatched talent," said Lt. Governor Kim Driscoll. "This proposal invests in programs to train highly skilled workers and connect them to rewarding careers in the industries of tomorrow. We are excited about this chance to expand economic opportunity for underserved communities by boosting workforce development programs and forging new pathways to good-paying jobs."
The proposed $40 million in matching funds from the Commonwealth are included in the Immediate Needs Bond Bill filed by the Healey-Driscoll Administration in mid-January, which seeks $987 million in bond authorization to support core state capital programs supporting housing and economic development across the Commonwealth.
Microelectronics Commons will disperse roughly $1.6 billion over the next five years to boost nine regional hubs across the country. Each hub will be aligned on one or more technology focus areas: Quantum, 5G/6G, Secure Edge, AI Hardware, Electronic Warfare, and Commercial Leap Ahead. The Northeast Coalition's submission includes six distinct proposals for each focus area highlighting the strong technology, manufacturing, and defense ecosystem in Massachusetts and across the Northeast.
The proposal envisions a streamlined process for  the collaborators— which include representatives from private industry, nonprofit organizations, and research and academic institutions working in microelectronics – to access joint R&D and manufacturing resources that will allow technologies to quickly move from the drawing board to design, fabrication, and packaging phases into testing. This focus on 'lab to fab' infrastructure will be bolstered by staff experts who can provide support at each stage. The proposal also includes a coordinated education and workforce development plan, as well as programs to support early and mid-stage startups.
"The Microelectronics Commons program plays to our strengths here in Massachusetts, where we've long been a front runner on advanced manufacturing, research and development, and technology," said Secretary Yvonne Hao of the Executive Office of Housing and Economic Development. "This proposal gives the Commonwealth and the broader Northeast region a competitive edge by driving strategic investments in the advanced technologies that are vital to our national security. We're excited about this opportunity to play a leading role in our country's future by boosting innovation and manufacturing in the microelectronics space."
The Center for Advanced Manufacturing at MassTech started planning for the passage of the federal CHIPS Act and related funding opportunities like Microelectronics Commons in May 2021, well before the law's eventual passage in August 2022. The 85 organizations, which come from the six New England states, New York, and New Jersey, demonstrate the unique mix of defense-oriented microelectronics experts and the wide range of technical and program management expertise in the region. Collaborators include large commercial and defense corporations, Federally Funded R&D Centers, small and medium enterprises, startups, academic institutions, and nonprofits, all overseen by an advisory group (highlighted by an * in the image below):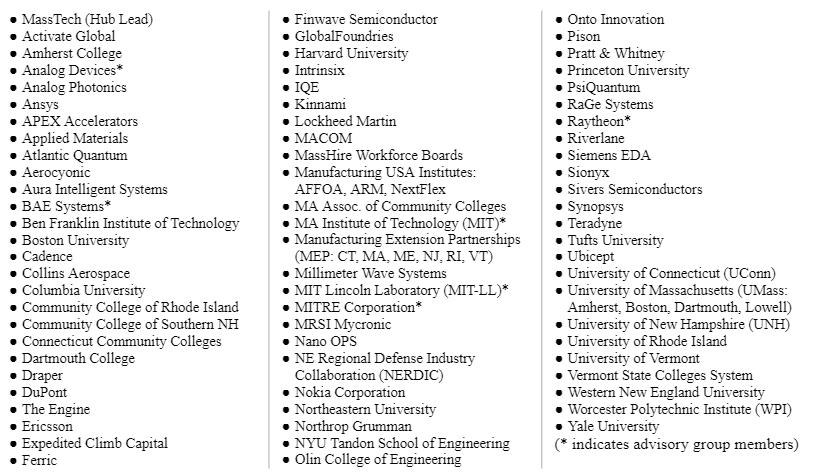 "Our Center for Advanced Manufacturing has brought together as competitive a group of experts as you will find anywhere in the country, the outcome of nearly two years of direct planning, engagement, and outreach," said Carolyn Kirk, Executive Director of the MassTech Collaborative, an economic development agency for the Commonwealth of Massachusetts. "With the backing of the Healey-Driscoll Administration, this collaborative proposal brings unmatched technical expertise and a strong approach based on our existing programs, but also proposed state and private-sector investments that should increase the proposals' competitiveness in this process."
"Through CHIPS, the U.S. is taking a whole-of-nation approach to reestablishing a robust domestic lab-to-fab lifecycle for microelectronics," said Benjamin Linville-Engler, Chief Investment Strategist and Program Executive at the MassTech Collaborative. "The DoD is an early adopter of many of the next generation technologies that are a focus of ME Commons, but they cannot do this without a strong industrial base here in the U.S. that produces them.  So this proposal is an opportunity to establish pathways for these technologies beyond research and catalyze economic growth in Massachusetts and across the Northeast Region."
"To boost advanced manufacturing in the Commonwealth, CAM has overseen the $100 million dollar M2I2 program, which is built around the national Manufacturing USA institutes, scaled MassBridge, a technician training program funded by the Department of Defense, and led Mass. participation in the New England Regional Defense Collaboration (NERDIC), all which are solid foundational efforts focused on technology commercialization, workforce development, and strategic partnerships," said Christine Nolan, Director of the Center for Advanced Manufacturing. "The relationships we've built through those programs, and groups like the Advanced Manufacturing Collaborative, have paved the way to build a cohesive, collaborative group across state lines to respond to funding opportunities like this. Our team is extremely strong and dedicated to this mission."
 "Analog Devices is excited to be a participant in the Northeast Microelectronics Coalition (NEMC) to form a Microelectronics Commons hub in the region. We fully support the Coalition's efforts to augment regional workforce development and expand the next generation of semiconductor technologies and systems—and we are eager to contribute our resources and expertise on technology solutions prioritized by the Dept. of Defense," said Dan Leibholz, ADI's Chief Technology Officer. "With over 80 members representing a vibrant ecosystem of global semiconductor and technology leaders, systems integrators, world class universities, non-profits and federal labs, and others, we are uniquely poised to work effectively and collaboratively to address some of the nation's greatest challenges to economic and national security. We are committed to maximizing this historic opportunity for the region to leverage its many assets to propel economic growth and job creation."
"Our region has an incredible depth of research, talent, and facilities across industry and academia needed to help the DoD deliver on the Microelectronics Commons vision," said Doug Robbins, Vice President, Engineering and Prototyping, MITRE. "MITRE is proud to partner with the Commonwealth of Massachusetts and our NEMC member organizations to help accelerate the nation's microelectronics leadership."
"The advanced technology needs of our aerospace and defense customers extend beyond standard commercial microelectronics," said Raytheon Technologies Chief Technology Officer Mark Russell. "As such, Raytheon Technologies supports this effort to accelerate improvements in microelectronics technologies and workforce development, which promise to strengthen our ability to continue advancing aviation, building smarter defense systems and creating innovations to take us deeper into space."
The Microelectronics Commons program was officially opened on November 30, 2022, with proposals due by February 28, 2023. The Microelectronics Commons process is being overseen by the National Security Technology Accelerator (NSTXL) on behalf of the U.S. Department of Defense. To learn more about the program and the grant process, view this presentation from the DoD's Office of the Undersecretary of Defense for Research and Engineering.
To read an executive summary of the Northeast Microelectronics Coalition's proposal and letters of support, click here. 
About the Mass. Center for Advanced Manufacturing at MassTech
The mission of the Massachusetts Center for Advanced Manufacturing (CAM) is to foster the most complete, collaborative and agile manufacturing ecosystem, to enable business growth from innovation through production. The CAM is a division of the Massachusetts Technology Collaborative (MassTech), a public economic development agency tasked with supporting business formation and growth in the Commonwealth's tech and innovation sectors. CAM provides a path for manufacturing growth through a connected, accessible ecosystem that supports innovation, workforce development and a business friendly environment. CAM managed programs include the Massachusetts Manufacturing Innovation Initiative (M2I2), the MassBridge manufacturing training program, and the MassMakes portal. Learn more at https://cam.masstech.org/.