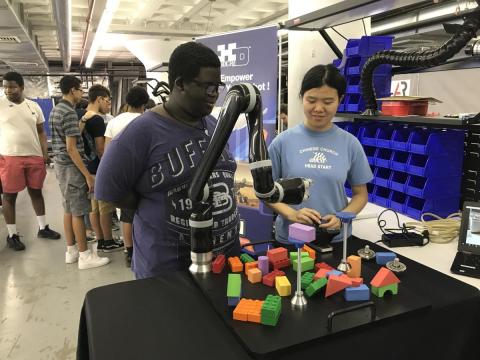 #1 in Innovation Economy Talent
Massachusetts position as the top state for innovation is bolstered by the many top-tier academic and research institutions.
The Commonwealth of Massachusetts has the highest concentration of innovation economy employees of any state in the U.S. and more than 1.3 million workers in the Innovation Economy. 
According to the National Center for Education Statistics (2016), there are 117 colleges and universities in Massachusetts. They enroll over 400,000 students seeking bachelors or associates degrees. Fifty of these schools are in the greater Boston metropolitan area, which is home to more than 250,000 students alone.
Massachusetts STEM Talent: An Important Natural Resource
The Commonwealth's STEM-trained workforce is a critical natural resource for Massachusetts companies, providing them with a deep pool of talent. Massachusetts is home to the most STEM Degrees in the U.S. per million residents and has the highest percentage of adults (47.3%) with a 'Bachelor's Degree or Higher' of any state in the U.S. 
In 2016, Massachusetts graduated 21,775 total STEM students from higher education institutions, including over 17,000 within an hour's drive of Boston. Several UMass system schools are located within two hours of Greater Boston, however roughly three-quarters of recent grads stay to live & work in the Commonwealth and 60% remain long-term.

Deep Base of Higher Ed Graduates
In addition to its strength in STEM degrees, Massachusetts is also #1 in the awarding of new college degrees per capita, with 120,813 total higher-education graduates in 2016 (advanced, 4-year, and community college degrees). This includes more than 70,000 degree holders inside the Route 128 tech beltway. 
The breakdown of the total degrees in 2016: 
Doctorate - 8,475;
Masters - 38,281;
Bachelors - 60,715; and
Associates - 13,342.
Relevant Rankings
Numerous independent media outlets & tech-focused associations rank Massachusetts highly when it comes to talent & workforce: 
#1 - 'Technology Jobs per Capita' - CompTIA's Cyberstates Report;  
#1 - 'High Tech Job Concentration' - U.S. Chamber of Commerce's Enterprising States study;
#1 – 'STEM Degrees' - Center for Data Innovation's Best States for Data Innovation 2017; 
#1 - 'Education' in CNBC's Top States for Business 2018; 
#2 - 'Technology and Science Workforce' & 'Human Capital Investment' - Milken Institute's State Tech & Science Index 2016;
Ten (10) colleges & universities in the Top 100 nationally, including the #1 school for engineering (MIT)....#1 & #2 schools for undergrad entrepreneurship (Babson, MIT)....#1 ranked business school (Harvard)...and the #1 school for Best Internship/Career Services (Northeastern).