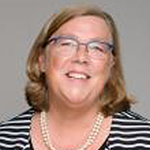 Executive Director
MassTech Collaborative
Carolyn A. Kirk was selected by the Executive Committee of the Mass Tech Collaborative (Mass Tech) as the agency's executive director in February 2019.  Mass Tech is a state economic development agency whose mission is to strengthen the tech & innovation economy across a variety of industries including advanced manufacturing, cybersecurity, digital health and other emerging tech areas such as artificial intelligence, fintech, blue tech/marine tech, and robotics.
Kirk previously served as the Deputy Secretary in the cabinet level secretariat of the Executive Office of Housing and Economic Development, a role she held since January 2015. As second-in-command, Kirk was responsible for overseeing all operational aspects of this approximately 1,000 person, billion dollar agency including IT, HR, Communications, Finance and Legal.  In addition, she served in various leadership capacities, managed an economic development program portfolio, served alongside the Lieutenant Governor as Vice Chair of the Seaport Economic Council, and tackled difficult assignments for the Administration.
Prior to her roles in state government, in 2007 Kirk became the first woman popularly elected as Mayor of the City of Gloucester, going on to win three subsequent terms. With a strong mayor form of government, Kirk was responsible for all aspects of executive management of the City of Gloucester including public safety, public works, public health, community and economic development, and served as member of the elected School Committee.
Not only did Kirk lead the city through public health, infrastructure and natural disaster emergencies, Mayor Kirk pulled the city through the unpredictable challenges of the Great Recession through strong and disciplined fiscal management.  Kirk's economic development plan focused on diversifying the local economy, traditionally focused on the commercial fishing industry, and emphasized community values and strengths which led to job creation and expansion of the commercial tax base. A key pillar of the city's economic plan was a focus on the blue economy.
Kirk's professional career spans more than 25 years and includes long-time experience as a management consultant, working with clients that included many of the Top 20 banks in the U.S. along with Fortune 500 companies.  
She was raised in Clinton, N.Y., and moved to Massachusetts to attend college, graduating from Boston College.