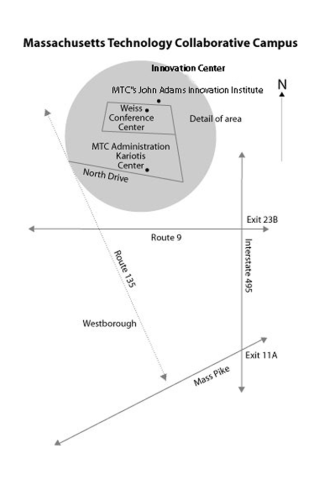 MassTech's campus stands on part of the site formerly occupied by the Lyman School for Boys. The Lyman School was established in 1847 as the first state-operated reform school. A progressive approach was advanced by the Lyman School - the old congregate system was replaced with a system of open houses in a bucolic, agricultural setting. All state reform schools, including the Lyman School, were closed in 1971.
The campus is centered on the top of scenic Powder Hill, which has additional historic importance as the site of Westborough's first meetinghouse. The entire site is listed in the National Register of Historic Places. Some of the handsome masonry cottages built by the Lyman School remain standing. The campus and its surroundings can still be traversed using a system of footpaths and narrow farm roads established by the Lyman School to link their facilities.
Buildings on campus:
MassTech's 36-acre campus contains ten buildings. MassTech currently utilizes three buildings, Kopin Corporation leases the integrated circuit fabrication facility, and the remaining six buildings are vacant. MassTech continues to explore options for selective renovation, demolition, and preservation of the vacant buildings. The historic buildings from the Lyman School date back to the mid-nineteenth century.
George S. Kariotis Center: Built in 1909, the Kariotis Center was once known as Worcester- Wachusett Cottage and was used by the Lyman School as a central classroom facility. After the Lyman School closed in 1971, the building was used by the Department of Revenue for the bulk storage of records. The building serves as MassTech's central administrative building.
Innovation Center: Built in 1955, the Innovation Center was once used by the Lyman School as a cafeteria. After the Lyman School closed in 1971, the building was used by the Department of Revenue, primarily for computer data entry. The main floor contains a 400 square foot computer room and offices that house the Innovation Institute and Broadband Institute.
Karl Weiss Education and Conference Center: Built in 1956, the Weiss Center was formerly known as the New School Building. Used by the Lyman School as a classroom facility until 1971, the building was then used by the Office of Management Information Systems for office space. The main classroom floor contains six classrooms, a training room equipped with work stations, and several offices, ranging from approximately 300 to 700 square feet.
Integrated Circuit Fabrication Facility (Kopin Corporation): The Massachusetts Microelectronics Center was built by MassTech in 1988. Containing 7,000 square feet of Class 10 certified clean rooms in 8 bays, with associated service chase areas and a process floor structurally isolated to support the manufacturing of 0.5 micron technologies, the facility is currently leased to Kopin Corporation, a manufacturer of flat panel displays.